The Western Automotive Journalists hosted Reeves Callaway last night (10/7/2009) and I must say that it was an interesting evening. I mostly know Callaway from the Sledgehammer and Twin Turbo Corvettes of the 90s, but it turns out that there is lots more to the Callaway story. Oddly enough, he started by getting a degree in Fine Arts from a liberal arts college back east. But he was a car nut at heart, and convinced the department to let him make some cars as art objects.
Reeves won the Formula Vee championship in the early 70s and thought that someone like Penske would call him up to have him come work as a driver. Well, the phone never rang (leaving Reeves "pissed and broke", pissed because drivers he'd beaten had gotten calls, broke cause he didn't have another gig going)  until Bob Bondurant called him up to be a driving instructor for Bobs first drivers school. Needing some income, Reeves went for it.
The Bondurant School's first client was BMW with the then new 320i. After a year of flogging the cars, the drivers knew the cars very well, but they were pretty beat. Reeves asked BMW if he could have one of the shot cars to try to add about 100 hp to it (what Reeves thought it needed more than anything else). They said fine.
Reeves had built a garage at a house he rented (I'm not even going to ask about the permitting on that one!) and built up what became C1 (all the Callaway larger projects are numbered like this, they're up to 16 now), a turbo kit for the 320i (and later VW, Porsche, Audi and MB variants).
The way this kit became a success is pretty interesting. An editor at Car and Driver did a one page highlight of the kit (implying it was all ready to go, when in truth there was just the one and no real plans on how to commercialize it) and orders started to come in. Reeves conquered the challenges of production, and Callaway as a company was off and running. All the variants of the C1 brought in "a shitload of money" and Callaway hasn't looked back since.
C2 was an Indy car engine all designed and built by Reeves (other than the Ti connecting rods, bought from Porsche at a cost of $600 each, a fortune back then). It displaced 2.6 liters and made 700 HP at 12,000 RPM.
C3 was a very interesting project that turned out to be pivotal in the development of Callaway. Alfa Romeo approached Callaway to do a "factory" twin turbo kit for the the GTV-6, a car with a 2.5 liter V6. Now, a real car company asking for something like this was the Holy Grail for a company like Reeves', but then, they were also worried that the car didn't have what it takes to really sustain something like this with the reliability required to create a good reputation. It turns out that the fears weren't justified, and after a lot of hard work, a very fast, reliable and capable car was made. Too bad Alfa pulled the plug on US sales before many could be made and sold. The 35 that were are now very collectible. But what did result from this effort was the proof that Callaway Cars had what it took to do factory supply to a volume car company.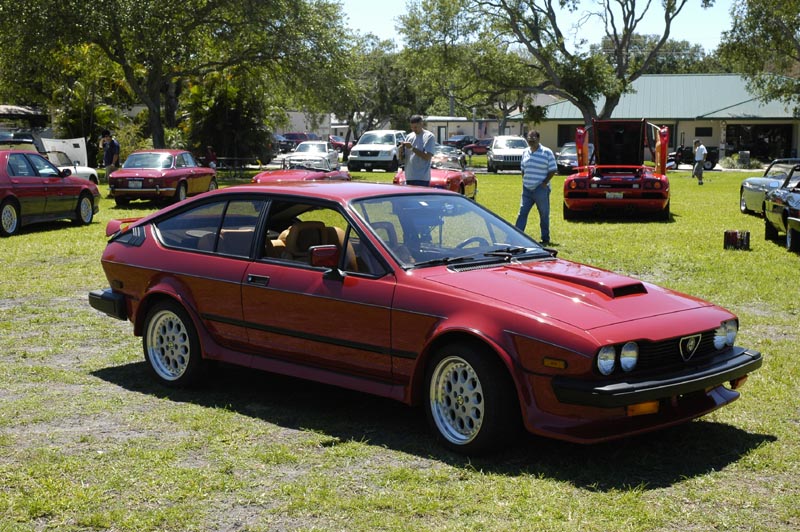 So why was this project so important? It didn't make lots of sales, but it turns out that GM bench marked every production car out there, and they had noticed that this little Alfa has pretty much identical performance as a small block Corvette with much lower displacement. Turns out Chevy had a turbo development program for the Corvette that was getting shut down because of the launch of the LT5, and the Corvette team asked Callaway if he'd like to do for Corvette what he'd done for Alfa. The GTV project is what created the opportunity, and Corvettes haven't been the same since!
C4 is the Twin Turbo Corvette is the car that really made me aware of Callaway's efforts. They were all over the US car magazines for quite the while. The first and so far only time that an "aftermarket" company has produced a RPO (regular production option) for the Corvettes, over 500 were sold in various forms.
During the program, Chevrolet was building test cars, flogging them and crushing them (as is th fate of most test cars). Reeves had the idea of building one car for the then in vogue top speed tests where the power could be dialed up to what was needed to win, and if someone else built a faster car, they'd just turn the power dial up and run faster! This is how the Sledgehammer came to be. This one-off car wasn't a stripper, far from it. It still had the radio, the AC, pretty much everything that a factory Corvette came with! And it went 409 km/h (254.76 MPH)! This hasn't been beaten by cars like the Bugatti Veyron, any production Ferrari, Porsche or anything  else. And the engine was code named "Hamster". You just can't make this stuff  up!
Reeves made the point that if you're going for top speed, you need a tire manufacturer to be part of the project. And for Sledgehammer, Goodyear was the partner and made 8 300 MPH tires for the program. The help cost about $1M. Makes today's performance run-flats seem cheap! And they looked just like production Gatorbacks! Nice touch.
Sledgehammer wasn't just a single purpose vehicle. It drove to and from Old Lyme CT to the test grounds in Michigan on real streets, not on the back of some transporter. The real surprise of the whole event (at least to me), the car went this fast at the lowest power setting, a mere 880 HP. Hamster was capable of 1650 HP! It just never needed it. The car was sold and is now in a museum.
C5 turned into the Aston Martin Virage and AMR-1 race car, C6 was a normally aspirated Corvette, the C7 was the first all Callaway car (while sharing a bit of a resemblance to Corvettes, no part of the car is based on Corvette technology. Paul Deutschman, Callaway's designer, uses more fluid lines and less angles, more on this later. He's still designing cars for Callaway, and is the main reason that there is such a similar look and feel to the Callaway cars).
The C8 was a lower cost car, a version of the Camero, the C9 a version of the Impala SS, the C10 was a ski boat and the C11 was a version of a Range Rover HSE (Reeves still drives one of these).
C12 was another all Callaway car that deserves a bit of focus. One of the cars was given to Auto Motor und Sport (a German car mag) and, without the knowledge of Callaway, they took it to the Mercedes wind tunnel for a full day of evaluation. Some time later at a car show, the man who ran the Mercedes test station approached Callaway and gave him a report on the car! Turns out that it was the best road car that had ever been seen in the wind tunnel! Function dictates form, and makes a very good looking package if you know what you're doing.
The C13 is better known as the Holden Monero, where Callaway made the performance V8s that gave the car it's scoot. When Bob Lutz and GM turned this into the new GTO (not a big commercial hit for lots of reasons, but quite the performer), Reeves asked Bob if GM wanted Callaway engine help on the GTO project. Bob said no… Too bad, the GTO program needed all the help it could have gotten.
The C14 was the MazdaSpeed Protege Turbo. What's most interesting here is that to meet US importation and DOT regulations, the turbo kit had to be installed at 7 different ports of entry all at the same time as the cars came into the US. Callawayhad to train the people who usually installed floor mats how to install turbo kits! The program was quite the success for both companies.
We all know the C15 as the Corvette C6.R race car. Let's just say that it has kicked butt for quite a while and has really pissed off people at Porsche and Ferrari! The C6.R could fill (and I'm sure has) pages and pages of blogs and books. You can read more about it's exploits here. One item I can't resist passing on: Before Reeves' presentation a few of us were talking to him about the C6.R racing efforts. He told us of a time when he was in the Porsche truck (those huge trailers withall the data collection and the like). Withless than 5 minutes left in qualifying, Porsche had spots 1-5. With one minute left in qualifying, a Callaway Corvette was at the pole. You can't print what the Porsche folks were saying. It basically comes down to something like "what's a piece of crap American car doing on the pole?" I swear you could see the pride Reeves has in the racing effort through the twinkles in his eyes as he told the story.
The C16 is the current Callaway "cream of the crop". It's based on the Corvette, but is so much more. Read the Press Release here. Some highlights are forged magnesium hub/carbon fiber rim wheels, Recaro Pole Position seats, and fully custom interiors befitting cars in this class, and if you get the speedster, your head gets scanned just like for F1 drivers and you get a custom helmet!  The helmets are kept under the rear deck lid in a way that is just too cool! There's a "Blurb Book" by Ely Callaway (Reeves' son) on the book. You can check it out here.
Reeves has some very kind words for GM. He thinks that the Corvette platform shows that no other car company has really mastered the combination of price for performance that GM has. Corvettes compete with the best of Porsche and Ferrari at a fraction of the cost. The only bad words he had to say were about the ZR1 hood. Put a window onto the hood to show…. a cover! "Who's in charge here?" was what Reeves said about that decision. He also had some other comments on the ZR1. While it's a nice car, for a less than $20k premium you can get a dealer installed Callaway kit that outperforms the ZR1 at a lower price. Can't argue with that one!
In Reeves talk, aesthetics and function both kept coming up. I asked about this at the end of the talk. Reeves opinion on this is a good one (I think). He said if you look at a race car or it's engine, "you can see what makes speed." He brought up examples of the exhaust systems of the 60's Indy cars and the like. The flow of the lines of the C12 and it's excellent aero-performance are other examples. The flow of intake manifolds and tubing shows a functional beauty as well. He says that there is beauty in the form of well engineered parts. We both lamented on the inevitable decay like huge amounts of negative camber on overly lowered street cars that create a look but defeat function, or the existance of things like faux carbon fiber that isn't stronger or lighter. But what can you do?
I also noted the change from turbos to superchargers and asked about that. Reeves comments were very informative. Easiest and cheapest way to make power is a more displacement ("there's no replacement for displacement" is a common mantra of the big block boys.) Next is to do some sort of boosting, either with a supercharger or turbo charging. If you want serious power, you have to go turbo because of efficiencies and the like. But the downside of turbos is that what Reeves calls "hot side technology" (or stuff that has to deal with the high temp exhaust gasses) is inhearently more expensive than cool side technology. What was most incitefull was that there is a detonation limit to whatever fuel is being used. For street cars, this is gasoline. This means that there is a natural limit on effective compression ratio. When you factor in the increase in blower efficiency (the C16 uses an Eaton TVS supercharger) and the lower cost of "cold side" technology, he's a big fan of mechanical blowers. He also said that if you consider the drivability issues of the SC'ed cars vs the twin turbo Corvettes he'd built, he says there's no comparison. The supercharged cars are more linear, more immediate and overall a more satisfying drive all around.
Anyway, it was a very good evening. I'd like to thank Reeves for taking the time to come and talk, and the Western Automotive Journalists for hosting the event.
Western Automotive Journalists
Share This: