So, I was reading about some new GPS guided 155mm howitzer shells (think your Garmin Nuvi can take getting shot out of a cannon?), really interesting technology in it's own right, when I came across an article on some conflicts between wanting to do right and wanting to be reliable.
So RoHS is the European Union directive on the Reduction of Hazardous Substances in products, an all together good idea. One of the enemies of RoHS is lead. Bad no-no. And lead is an environmental poison that you really don't want in your neighborhood. Here in the US, we've gotten rid of lead from paint and gasoline, though it still shows up every now and then where it's not supposed to, like toys, and sometimes where it's allowed, like a softening agent in some plastics, like the insulation on some wires.
Now the elmimination of lead from almost all electronics devices is pretty much a good thing, and has resulted in a change in the formulation of solder. Lead/tin solder isn't healthy, but boy does it wet to stuff well, and is very easy to work with. But it's being replaced by other formulations, the cheapest of which is pure tin.
Now, COTS is a government cost reduction strategy that stands for Commercial Off The Shelf. The idea being that if government needs can be met with commercial product instead of custom stuff, it costs the government less money. This, in general is a good thing too.
So what does this have to do with the DOD? Well, it's not just the DOD that's having issues with this. Turns out that pure tin can form little wiskers (great NASA site on the subject here) and this is bad.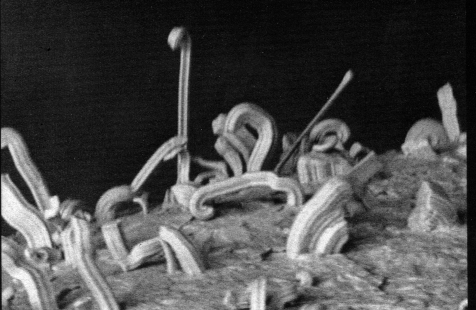 While the use of pure tin for commercial products like cell phones isn't really that much of a problem, as they have usefull lives of 2-3 years. The COTS directive means that a lot of components that have pure tin are now in our defense system.
It's also the case that there are RoHS complient solder alloys available that don't have wisker issues, but they cost more. In the commercial market that is always driven by profit maximization, these alloys aren't used. It's also very expensive to run multiple production lines with different materials, so a lot of sensitive areas (mostly having to do with the aviation and defense electronics sectors) don't have a choice and have to use products with pure tin.
This can be very bad. There are documented reportsof Phoenix missile and F-15 radar systems failures traced to tin wiskers. And we all hope that the shelf life of a fighter jet is longer than a cell phone, sad truth is that the desire to clean things up and save money means the two share a lot of components.
Well, one could imagine an exemption for critical systems, and these actually exist! But the fact that there aren't any production lines that are using the higher cost materials means that even with the paper exemption, there may not be parts available to buy at any price! The problem is so acute that there are some businesses that re-coattin parts with lead or other alloys to increase thier long term reliability.
And it's not just the military that has problems here. Some pacemakers were recalled over this, and even a DirectTV satallite failed because of these problems.
that's the downside. The upside is that it's very likely that missiles will become RoHS compliant! (He writes with tounge in cheek).
Watch out for what you ask for…
Share This: